The farm lies in the countryside of San Gavino Monreale, for the most part in "S'Argidda" region (which its name comes from), with a surface area of about 27 hectares.
The remaining part, up to about 37 total hectares, is displaced in different areas within the same municipal district. These areas are called "Grui", "S'Arrideli", "Sa Caudela" and "Su Matutzu".
Eucalyptus woods occupy an area of 18 hectares.
The main farm can be easily reached because it is next to the 197 State Road at the 17.500 km, in the stretch that connects San Gavino Monreale to a near village, Sanluri, and it is about 2 kms away from San Gavino village.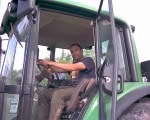 »
company name
: S'Argidda di Fausto Caboni
»
registered office
: Via Dante, 65/d - 09128 Cagliari - Italy
»
main farm
: S.S. 197, km 17,500 - 09037 San Gavino Monreale (SU) - Italy
»
tax number
: CBNFST72E18B354C
»
v.a.t. number
: IT03149370920
»
web site
:
www.zafferanosargidda.com
»
e-mail
:
info@zafferanosargidda.com