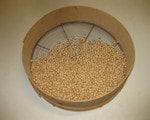 Organic chickpeas
For years we have grown a variety called "pascià", that has a rough coat and a medium-large seed calibre.
Chickpeas are excellent both as a side dish and as a main course in many recipes. In the night, put them to soak in water, adding a teaspoon of bicarb and the day after boil them for about one hour.
Organic vegetables
All year round we grow many varieties of seasonal vegetables: lettuces, artichokes, tomatoes, aubergines, peppers, fennels, cabbages and cauliflowers, etc..
In late summer pumpkins stand out. We grow several varieties: Musquee de Provence, Red Kuri, Marina di Chioggia, Butternut...